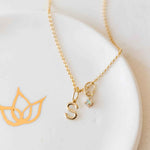 Mother's Day Gift Guide: the Best Gifts for Moms
Mother's Day is dedicated to expressing love and gratitude towards all the mother figures in your life. We celebrate this day to acknowledge the sacrifices our mothers make for the people around them, and to remind them just how important they are to us. So how do you show your mom just how appreciated and important she is? If you want to do it the luxe.zen way, then turn to jewelry and gift boxes this Mother's Day.
Birthstones
Any jewelry or gemstones that contain your mom's birthstone will be a gift she cherishes for years to come. It's a beautiful and thoughtful gift for anyone on any occasion, but especially on Mother's Day. Whether you wear your birthstone as a ring, necklace, or bracelet, it allows you to truly connect with the deepest parts of yourself and strengthen all the best qualities you have. Each birthstone has its own unique abilities, whether it's to heal you, bring you love, or stimulate your mind. If this sounds like something your mom would love to unwrap, here's a popular example of a birthstone gift:
Do you want to learn more about birthstones and how they relate to you? Make sure to go ahead and read our birthstones blog to find out how using them in your everyday life can benefit you. Birthstone jewelry is always appreciated, so if you're hesitant about purchasing a birthstone necklace that includes your mom's star sign, you can shop all birthstone jewelry by month to find the right piece for your mom. 
Birthstone & initial charms
Crystal Jewelry
Any jewelry made with gemstones and crystals can be beneficial to those searching for guidance, clarity, and healing in their life. Crystal jewelry is also uniquely beautiful, so even if you're not a believer in the energies of crystals, jewelry created with ethical gemstones and crystals make stunning additions to your jewelry collection. If you're looking for jewelry that fits in with your goals and lifestyle, be mindful of crystals having their own unique energies, as it's important to find a gemstone that's going to help you be the best version of yourself. There are even some crystals, like sapphire, that work better with direct contact to your skin, which is what makes jewelry such a simple way to truly benefit the most from what the stones have to offer you. 
Ethiopian opal gemstone earrings
Opal is a great stone for reminding us about self-love. This gemstone supports intuition and encourages the freedom to truly be ourselves. Opal contains high vibrational energy, amplification powers, and creates a perfect sense of balance. Since opal is such an absorbent and reflective stone, it collects all positive thoughts and feelings, only to send them back to you in greater power. Wearing this gemstone can leave your mom feeling more confident about who she is.
Blue sapphire nebula necklace
Sapphire is a great stone for shifting your energy. It's known for its ability to enhance self-expression, integrity, mental clarity, and wisdom. Sapphire can also be used as a protection amulet to help shield you from evil and negative energies. Since this gemstone has a connection to the throat chakra, wearing it as a necklace may help you draw from its energy at a deeper level. The mom who receives this gemstone as a gift will benefit from extra protection and mental clarity during especially hard days.
Raw sunstone ring
This stone is powerfully charged. It's linked to luck, good fortune, optimism, and self-healing. All your chakras are cleared, rebalanced, and energized with this gemstone, making it extremely beneficial to carry with you. That's why we suggest wearing this gemstone as jewelry. The sunstone crystal is also able to dissipate fearfulness and stress to welcome more enthusiasm and happiness into your life. This is a wonderful gift for the mom on a spiritual journey, wanting to connect with the deepest parts of her soul. 
Minimalistic rings
Maybe your mom is someone who is looking for something a bit more minimal and takes comfort in the simple things. If crystal jewelry doesn't seem like the right gift for your mom, we have so many other great options to shop from, like our popular stackable rings. They make a statement on their own, and also pair well with any other luxe.zen rings your mom may already own, so any of our stacking rings are definitely a must-have piece for your mom's jewelry collection. Shop our stacking rings for a minimalistic gift.
Boxes
Our curated boxes are a great way to give your mom a bit of everything. We sell 3 different types of personalized boxes, and each of them make really thoughtful gifts. Whether it's crystals, candles, or journaling your mom really loves, these boxes have it all. The contents of each gift box would make great additions in your mom's office, bedroom, or meditation space. Each curated box comes with a vegan leather journal to encourage your gift recipient to tune in with themselves and express their everyday thoughts. 
The Sarah box — for the luxe one
The Sarah box is perfect for the mom who enjoys quality over quantity, and deserves a moment of self-care and self-love. Inside this box you'll find an original hand-poured candle made with a rose quartz crescent moon, rough rose quartz pieces, pink tourmaline crystals, and lavender and rose petals. This box, like all the others, comes with a vegan leather pocket journal for all your writing needs. 
The Megan box — for the multitasker
The Megan box is meant for the mom who always has multiple things on the go, wants to keep moving, and has mastered the art of multitasking. With this box, your mom can enjoy a garden-grown lavender burning bundle, a Brazilian phantom quartz, and a Madagascar Labradorite palm stone, which is perfect for meditation and healing. Our favourite vegan leather journal also comes included in this gift box, for all the multitaskers who need to jot down their thoughts. 
The Kat box — for the minimalist
The Kat box is a great gift for the mom who thrives in a clear and cleansed space, practices minimalism, and enjoys leaning into their spiritual side. She'll be able to enjoy a "ritual" crystal grid candle and a Brazilian clear quartz cluster, which is also known as a "Master Healer'' due to its strong energies. Purchasing this gift box comes with a vegan leather journal, which is the perfect size to fit into your work bag or purse.
Are you looking to find the perfect gift for your mom this year on Mother's Day? Unique jewelry and gift boxes make thoughtful gifts for anyone in your life, especially to all the deserving mother figures out there. We have so many beautiful pieces to choose from, you'll be sure to find the right one to surprise your mom with this year. You can also shop Sarah's picks for more great gift options, or reach out to us for personalized recommendations!