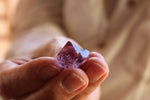 Ethical Crystals & Ethical Sourcing - Why It All Matters
The popularity of crystals has been steadily increasing over the years as more and more modern spirits integrate crystals into their everyday lifestyles, wellness routines and personal rituals. This means the crystal industry is booming! This also means that it's necessary to understand the dark side of the crystal craze, and why this should matter to you.
At luxe.zen, we are constantly striving to improve our practices, making every effort to work with ethical crystals and gems, and practice ethical sourcing. So we thought it was time that we shared what we've learned with all of you in an effort to continue raising awareness about ethical practices.
We want you to be informed AND empowered when you're buying crystals. Here's what you need to know.
What Does Ethically Sourced Mean?
At its most basic, "ethically sourced" means that the sourcing of crystals is ethical at all levels - human, political and environmental. 
Let's break that down for you:
We avoid sourcing coloured stones from areas where the profits of gemstone or metal mining is known to fund conflict and human rights abuses until we can find a trusted ethical source

Workers are paid a fair living wage for their work

Workers have proper safety protective equipment and safe working conditions

Specimens are extracted using hand tools and small equipment to lessen environmental impact 

Specimens are not extracted from environmentally sensitive locations
There are many factors that can play into this, and it's all constantly changing. This is why we do everything we can to stay informed about best practices, and are continuously learning about where our crystals and gems come from and who made it happen. 
Why Does Ethical Sourcing Matter?
The jewellery industry has been known to have a negative impact on the humans involved as well as the environment. By ensuring ethical sourcing in our pieces, we are doing our best to lessen negative impact and completely avoid it whenever possible. All workers should be treated fairly and safely, and the environment should not suffer for us.
The truth is that many crystals are mined in deadly conditions in some of the world's poorest countries. There is little in the way of fair-trade certification for crystals or transparency in the industry, which makes tracing a crystal very difficult from the time it is extracted from the earth, to the polished moment of final sale.
We understand that this may leave you feeling overwhelmed, and believe us when we say that we've been there, too! We are still overwhelmed sometimes by how much more there is left to do in the way of improving our ethical sourcing. If you've purchased a crystal without this knowledge, then understand that it is okay. We've all been there. The best thing we can do is make more mindful decisions moving forward.
This is what we aim to do, and we hope that you can join us on this journey. You may be thinking, "how can I make an impact in this billion dollar industry when I am just one person?" And to this we say - every single decision and action matters. Every purchase, every interaction on social media, every reference to what it means to understand ethical sourcing - all of this helps us move the industry in the right direction. 
So stay aware. Stay curious. And continue to strive to do better every day, just as we are.
If you have any questions, want more information on this topic, or want us to cover anything else, just get in touch! We want this to be a space FOR YOU.