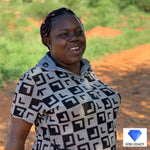 How We Ensure Fair Labour Conditions for Everyone
We strongly believe that all persons working in this industry deserve a fair working wage and a safe working environment. We also believe that our customers should be able to have full transparency in the items they purchase.


To ensure that we are not contributing to unethical practices, we work with vendors who offer transparency in the source of stones and raw materials.
We are consistently working toward improving transparency and accountability in our supply chain, and we work with small businesses in sourcing raw gemstone material to ensure fair living wages and safe working conditions.
Additionally, we are advocates for transparency in the jewellery industry and access to ethical gem supply chains globally.

Our values are centered around providing you with a product that is both beautiful and ethically sourced. Our 2021 goal is transparency in origin for each piece of jewellery and mineral specimen in our collection, ensuring we are providing you with peace of mind when you are ordering from us. We are continually updating our collection information as we create partnerships to source each type of stone transparently.